Wutai
Source: Final Fantasy 7
Builder: Benamas
Level Range: 11-20
Linked: Yes
Wutai is a city in Guardia. It is northeast of Truce, on the northern coast of the Western Sea.
History
Wutai was founded around 190 years after the Cleft's formation.
At some point, a power plant was constructed by the ShinRa Electric Power Company on Mt. Nibelheim to the north to provide electricity to the city.
Sights
The Altamira Boardwalk
The Altamira Boardwalk is just south of Wutai, with various attractions for tourists (like a ferris wheel!).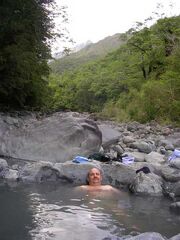 Hot Springs
The mountains north of Wutai have some geothermal activity. Upwellings of hot mineral water form basins and pools for relaxing in.
The Wutai Pagoda
It's a really tall building where you can train your mind and body. It's on the west side of Wutai.
Shopping and Dining
Wutai has some weapon and armor shops, and at least one really nice bar/restaurant, Turtle's Paradise.
The resort known as Kett's Rooms is only a few miles to the south, on Humboldt Island.
Travel
Like Truce, Wutai has cobblestone roads running throughout it and pedestrians are common. Roads from Wutai lead west to Truce, or north into the mountains, with Mt. Nibelheim on the other side.
Sailors and other seafarers can disembark from the coast south of Wutai and reach the El Nido Triangle, to the east.
Law, Government, and Politics
Wutai is part of the kingdom of Guardia. It maintains a town guard, which is probably funded at least partially on the (notoriously low-profile) government level.