Benamas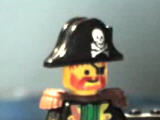 AVAST, YE SWABS
Activity: Apathetic
Form: male human pirate
Element: Water
Influence: Oceans and Thievery
Appears as a man in brightly-colored outerwear, has influence over the oceans and most marine creatures. Enjoys messing with people personally, and ignoring other Immortals.
Avatars: None
Followers: Various bands of pirates, sailors, fishermen
Monuments: A shipwreck lol
Level 106
HP: 9999 MP: 999 MV: 9999
Abilities:
Tsunami: 50 MP
Earthquake: 100 MP
Polymorph to/from Crustacean(Hermit Crab): 1 MP
Teleport: 10 MV
Steal (from boats): 1000 MV
Auto Skills:
Speak with Animals (marine): Like Aquaman
Swim+++: Moves freely at any speed underwater
Community content is available under
CC-BY-SA
unless otherwise noted.